Know Your Adversary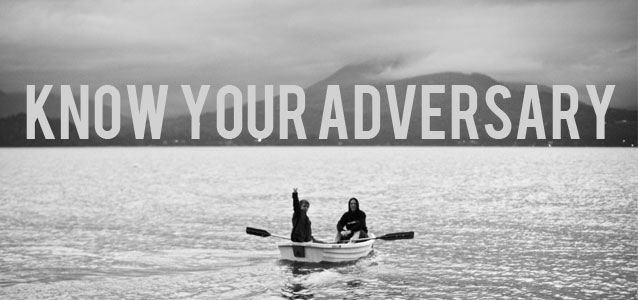 Why would anyone want to know Satan? It probably seems odd that we, as Christians, would want to know anything about him except that we should stay far away from him! However, as Christians, it is imperative to be aware of our greatest enemy who despises us and the Lord we serve. We ought to be aware of his nature and tactics so we are not surprised when he is at work. God's Word enables us to learn key information about the Enemy, enabling us to be sensitive to his attacks and prevail!
Before you accepted Christ into your life, God and Satan were in a battle for your soul. The moment you surrendered your life to God, and accepted Jesus as your savior, you eradicated Satan's deadly grip on your life. However, by choosing God's side, you also signed yourself to be one of Satan's enemies. Spiritual warfare is a daily part of a walk with God. If you have never been opposed by the Enemy, you may not be on the right side. Pastor Ted described it this way: "If you have never had a head on collision with the devil, you are probably traveling in the same direction." Let us remember, Satan doesn't have to put in much effort when we are already heading down the road of destruction that isolates us from God.
So how can we recognize Satan in our lives? It's not as simple as spotting a red horned creature wielding a pitchfork. He often works discreetly, rather than obviously, to gradually pull you away from God. In Luke 22:31, Jesus says, "Simon, Simon! Indeed, Satan has asked for you, that he may sift you as wheat" (NKJV). To "sift" means "to go through and sort what is useful and valuable." Satan watches you. He knows your mannerisms. He knows your vulnerabilities. He knows exactly what pushes your buttons and what will bring you right back into sin. Satan is shrewd and calculating, but we do not need to fear succumbing to his temptations! Jesus, the High Priest, intercedes for us to God in the very midst of the Enemy's attacks (Romans 8:26-27).
Furthermore, we need to realize that Satan is limited. His power is restrained by God. In the book of Job, God gives Satan access to Job's circumstances, but He still retained control and gave Satan explicit limitations: "And the Lord said to Satan, "Behold, all that he has is in your power; only do not lay a hand on his person"" (NKJV, Job 1:12). As long as Satan is free to roam on this earth, we can expect to be affronted with temptation. But God, who is faithful, will always give us the way out. James 4:7 explains the course of action we are to take when tempted by the Enemy: "Therefore submit to God. Resist the devil and he will flee from you" (NKJV).
1 Peter 5:8 describes the dangerous, predatory nature of the evil one, cautioning, "Be sober, be vigilant; because your adversary the devil walks about like a roaring lion, seeking whom he may devour" (NKJV). Yes, we will be tempted by Satan, but we are to take heart and resist his schemes. 1 Peter 5:9 exhorts, "Resist him, steadfast in the faith, knowing that the same sufferings are experienced by your brotherhood in the world" (NKJV). Jesus sympathizes with our weaknesses because he, too, was tempted in all ways by Satan when He was most vulnerable, during the last day of his forty day fast (NKJV, Matthew 4:1-11).
Don't be surprised if day-to-day, you encounter temptation and opposition from Satan. Time is short, and he knows it all too well. This is not to say that Satan causes every negative experience and situation in our lives. We are fallen creatures with a sinful nature, and Galatians 6:8 reminds us, "The one who sows to please his sinful nature, from that nature will reap destruction; the one who sows to please the Spirit, from the Spirit will reap eternal life"(NKJV). Therefore, strive to walk closely with God everyday to actively pursue the path of righteousness, warily resisting the adversary's infiltration.